De Prince Leopold werd de tweede in de reeks welke op het nieuwe concept van comfort zoals de Prinses Astrid was gebouwd. Het kreeg yard nummer 639 bij de Cockerill werf en liep op 29 november 1929 van stapel.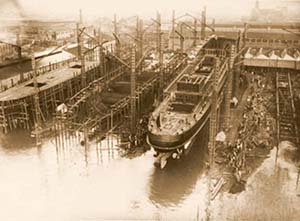 Het schip had een lengte van 109.60 m met 3083 ton. 14 0000 pk motoren dreven het vaartuig tot een snelheid van 23.5 knopen.Net zoals het zusterschip werd de stookinrichting voorzien om ook mazout te branden indien deze brandstof goedkoper zou worden dan kolen.
De komst van deze schepen waren uiteraard gepast voor de lijn omdat in 1930 de wereldtentoonstelling te Antwerpen plaats had. Dit jaar kon de lijn 432 689 reizigers vervoeren. In 1931 wist de lijn daarboven reeds 655 040 kleine pakketten alsook voor zo'n 13 miljoen kilo goederen en 1210 auto's te vervoeren. In 1926 had men op de Oostende kaai een elektrische kraan van 5 ton geplaatst. Deze kon over een afstand van 13 meter verrijden. Zo kon diverse goederen en auto's worden aan boord geladen.
WOII
Niets of niemand werd bij de uitbraak van de tweede wereldoorlog gespaard. In de morgen van 16 mei 1940 vertrok de Prince Leopold samen met der Prince Philippe en de Prinses Joséphine Charlotte naar Folkestone met aan boord vluchtende burgers en een deel van de belangrijke archieven en Ministeriële documenten. Op 19 mei werd Oostende door bommen getroffen en het nieuwe Car Ferry gebouw zwaar beschadigd.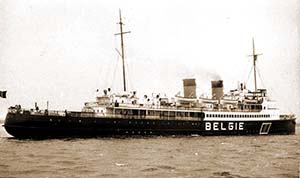 Van 18 juni tot 22 september opereerde de Prince Leopold vanuit Engelse haven als hospitaalschip voor het Ministerie van Oorlog. Later besloot men in december 1940 om de Prince Leopold te verbouwen naar een landingsschip of LSI en werd deze naar de Royal dockyard van Devonport gebracht. Op 6 maart 1941 was de omvorming beëindigd en deed ze dienst in de Britse wateren en nam deel aan diverse raids.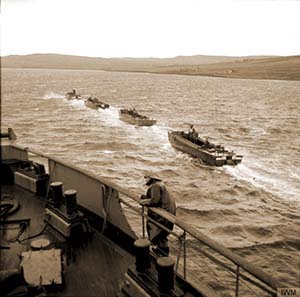 Later in 1943 werd ze naar de Middellandse Zee gestuurd en nam deel aan de invasie op Sicilië . In oktober keerde ze terug naar de Britse wateren om als training schip voor de landing in Normandië te worden gebruikt. Waaraan de Prince Leopold ook heeft deelgenomen. Op 29 juli 1944 liep ze echter op een mijn en zonk.