De Prins Philippe werd te Temse op de Boelwerf gebouwd als bouwnummer 1476.
Het was het eerste Multi Purpose of MP schip dat in opdracht van de Rmt werd gebouwd. Het schip liep van stapel op 17 februari 1973 en kon al proefvaren op 4 juni. Vanaf 16 juli kwam het schip in dienst.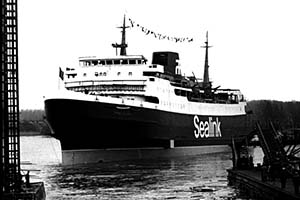 Bij het in dienst komen was het schip zwart-wit geschilderd tot aan het hoofddek. Later in 1974 werd de scheidingslijn verlaagd tot ter hoogte van het garagedek. Wat een mooier beeld gaf.
Tijdens de jaren na de bouw kon de Prins Philippe flink wat vervoeren en deed heel wat nuttige dienst als er veel auto's dienden verscheept. Het schip had immers een capaciteit van 212 auto's en 1302 reizigers. Omdat het aanbod van vracht steeds verhoogde en er slecht 174 meter ruimte (10 a 12 stuks vracht) in de garage beschikbaar was voor vracht, kwam dit algauw tot lang wachttijden voor de momenten van hoog vrachtaanbod. Neem daarbij dan nog de autobussen die toch ook graag per boot naar Engeland reizen organiseerden.

In de jaren zeventig en begin tachtig nam het vrachtverkeer enorm toe. Meerdere malen kwam het tot problemen wegens gebrek aan plaats op de kaai om vrachtwagens per afvaart op te stellen. Vrachtwagens kwamen namelijk in de namiddag reeds binnen naargelang de te rijden afstand en naargelang ze in de fabrieken tijdig gelost en geladen konden worden. De Verenigde Natieslaan zijnde het stuk vanaf de terminus autostrade tot aan de car ferry stond soms volledig vol met rijen vrachtwagens die zich aanboden voor het schip. Dit tot ergernis van velen en drukke bezigheden voor Politie om de weg nog berijdbaar te houden. De kaaimensen diende elke hoek overal te benutten om gereserveerde vrachtwagens degelijk op te stellen en bereikbaar te houden tot wanneer ze op hun gereserveerde afvaart konden geladen. Het was vooral 's nachts dat de schepen meer vracht konden nemen. In de periode van Sealink kwamen dan ook Engelse schepen zoals de Vortigern, Earl Leofric, Hengist, Horsa en zelf the St Anselm 's nachts naar Oostende om het hoofd aan het vrachtverkeer te bieden. Deze laatste schepen namen veelal ook onbegeleide vracht mee dat door de chauffeurs op de kaai aan boord diende geplaatst met de Rmt tractoren.

Het werd duidelijk dat er schepen met meer laadruimte een oplossing konden bieden.
Op 6 mei 1985 werd de Prins Philippe na een korte loopbaan bij de Rmt van 12 jaar aan Sealink verhuurd voor de Cherbourg – Weymouth lijn.Daar kon ze al haar degelijkheid bewijzen wanneer ze de reis Weymouth naar Guernsey op 3 uur en 29 min. deed. Hiermee brak ze een record dat sinds 1910 stand hield.

Op 22 mei 1986 werd ze voor drie weken gecharterd door British and Irish line voor de route Fishguard-Rosselare. Daarna werd ze in juni 1986 in reserve gelegd en heeft haar laatste reis op 25 september 1986 gedaan.

Op 17 december 1986 werd de Prins Philippe verkocht aan Navarma Napels voor de lijn La Spezia-Livorno-Bastia. Hiervoor werd nog een onderhoudsbeurt in het Rmt dok georganiseerd. In Italië kreeg ze de nieuwe naam "Moby Love".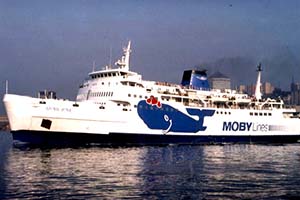 Enkele jaren later in december 1993 werd het schip verkocht aan Kykladiki Aktoploia, Griekenland (Ventouris group)en kreeg de nieuwe naam "Panagia Tinou 2" om op de verbindingen Piraeus-Paros-Naxos-Ios-Santorini te varen. In oktober 1995 werd ze echter wegens faling van de Ventouris group door de bank aan de ketting gelegd. Wat later kreeg ze nog de toelating om voor Ventouris tussen Piraeus en Cycladic eilanden te varen en in de winter 97/98 terug aan de kant te liggen.

Half 1998 werd het schip opnieuw verkocht aan Agapitos Line en kreeg de nieuw naam " Express Athina".
Op 1 augustus 1999 werd ze verkocht aan Minoan Flying Dolphin Lines maar behield dezelfde naam. Met deze kwam ze in dienst voor Hellas Ferries.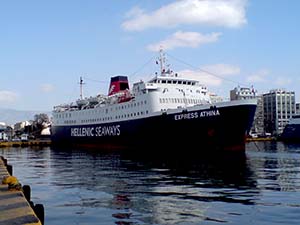 In 2006 werd Hellenic Seaways eigenaar en verkocht deze aan Saos Ferries . Deze maal werd de nieuwe naam "Express Limnos" met als thuishaven Piraeus.

In 2008 werd Hellenic Seaways nog een tijdje eigenaar en dan bleef het stil.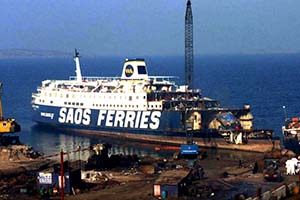 In 2011 werd de ex-Prins Philippe verkocht als schroot en belandde in Aliaga Turkeye voor afbraak.