De Prinses Paola werd in 1965/66 bij Cockerill gebouwd en kreeg bouwnummer 836. Het schip liep van stapel op 12 februari 1966 en kon op 10 juni afgeleverd worden. Op 14 juli 1966 werd het schip in dienst genomen. Dit mooie schip had een nieuw voordeel en was de eerste met turbo systemen op de motoren. Het zou ook het laatste schip zijn van die aard voor de lijn maar ook een snel schip dat 24 knopen haalde en steeds de reis ruim binnen de tijd kon maken.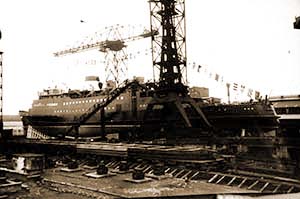 Met een capaciteit van 1700 reizigers kon het schip aan de vraag voldoen. Het reizen naar Engeland was in de jaren zeventig goedkoop omdat de pond betaalbaar was ten opzichte van de Belgische frank. Ook het internationaal verkeer genoot van een hoogtepunt door de vele treinverbindingen dat in Oostende verder aansluiting gaf voor de reizigers naar Engeland. Telkens volgeladen vertrok de Paola vanuit Oostende en kwam 's avonds volgeladen terug aan Post 3 of 4 aan. Deze aanlegplaats was juist naast het station gelegen waardoor de reizigers onmiddellijk via de kaai het station konden binnen gaan. Het mag gezegd, nergens hadden de trein- schip reizigers een beter faciliteit voor trein schip dan in Oostende. Denk maar in de haven waar alle voetgangers met autobussen dienen naar de terminals gebracht.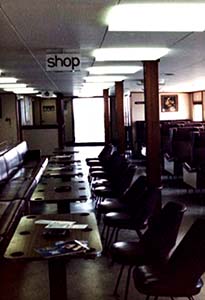 Op een mooie zomeravond was de Paola via de VHF aangekondigd voor aankomst te Oostende. Tijdens het binnenvaren had de havenloods van dienst opgemerkt dat het schip nogal vol zat. Hij belde mij op en vroeg "zeg nu eens eerlijk Eddy, hoeveel reizigers heeft die Paola mee?. Ik zie geen waterlijn meer." Ik keek even op de documenten en zei: "1700 loods". De loods lachte. Vlug ging ik naar buiten kijken naar het schip omdat die juist ter hoogte van het bureel was. En ja, je zag totaal geen waterlijn meer. Toch gleed de Paola sierlijk en precies door de haven naar zijn aanlegpost. Geen vuiltje aan de lucht.
In 1981 werd het schip nog enkel in dienst gesteld tijdens de zomer. Door het toenemend auto- en vrachtverkeer was het schip stilaan in de schaduw van de ferrydiensten geraakt. Maar toch heeft ze altijd een goed alternatief geweest om de vele voetgangers en treinreizigers comfortabel naar Dover te brengen.
In 1982 op 4 april had ze nog een ongeval wanneer ze te Dover aankwam en de machines verloor. Hierdoor kwam ze in aanvaring met de Jetfoil Terminal.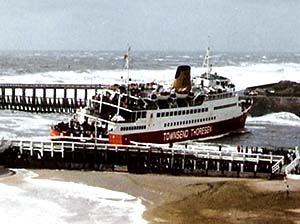 Ook in 1987 op 3 mei verloor de Prinses Paola tijdens een zware storm de controle en ramde zowel het Oost- als het Westerstaketsel te Oostende.
In 1986 werd ze nog in het oranje Townsend Thoresen kleur geschilderd maar het volgende jaar deed ze op 25 september de laatste overvaart en werden de Townsend Thoresen naam weg geschilderd.
Op 18 maart 1988 werd de Prinses Paola aan A.N.K. Marine Enterprise Inc. uit Libanon verkocht.
Hier kreeg ze een nieuwe naam "Tropicana".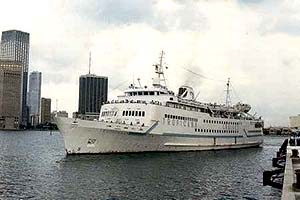 Twee jaar later werd het schip gecharterd door gecharterd door Sea Escape en later door Freeport Cruise lines en kreeg de naam "Sea Palace" na de ombouw tot cruise schip in Perama.

Begin 1991 ging ze aan de ketting in Houston en werd verkocht aan Winston Cruise Lines Ltd, Nassau, Bahamas en kreeg het de naam "St Lucie".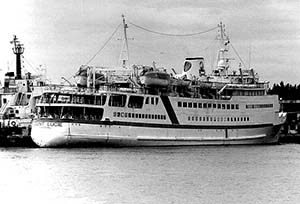 Vervolgens in 1995 werd het verkocht aan Jubilee of the Bahamas Inc, Nassau, Bahamas en kreeg de Paola terug de naam "Tropicana" met als thuishaven Nassau. Hier vertrok ze voor dagreizen als cruise schip vanuit Miami.
In maart 1996 brak een brand aan boord uit en diende in Miami diende hersteld. Vanaf november 1996 deed de Tropicana dienst als drijvend casinoschip in New York.

In 1999 lag ze nog in Charleston, Zuid Carolina.
In 2006 na jaren van verwaarlozing kwam het schip belandde bij Mideast Shipping & Trading Ltd.
Einde december 2006 werd het schip na 40 jaar op het strand gezet in Alang India.