Na het succesverhaal van de Prince Baudouin werd op 17 februari 1936 een 25ste nieuw schip met de naam "Prins Albert" bij Cockerill besteld. Het schip had vrijwel dezelfde afmetingen als de Prince Baudouin en kreeg yardnummer 651. Het schip had een lengte van 113 meter en een bruto tonnenmaat van 2938 T. De bouw van het schip gaf enerzijds een steun aan de heersende werkloosheid en anderzijds kon de visie van het bestuur inzake vernieuwing van de moderne eenheden worden verder gezet. Veel aandacht ging er naar de elektrische voorzieningen. Het interieur kon opnieuw door de gereputeerde Henry Van de Velde worden gerealiseerd.
Tijdens de bouw op 28 januari 1937 brak er in het damessalon echter brand uit. Het vuur en rook was hevig en het duurde een uur voor de brandweer het vuur kon blussen.
Tijdens de proefvaarten had de Prins Albert een snelheid van 25 ¼ knopen gehaald. Hiermee werd het drie jaar oude snelheidsrecord van de Prince Baudouin verbroken en op naam van het nieuwe schip gezet.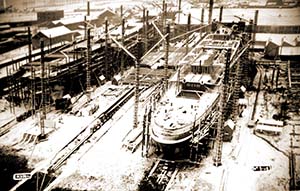 Deze maalboot wist bij de eerste maidentrip op 4 oktober 1937 nog niet welk geluk er boven het hoofd hing. Bij vertrek om 09u07 en uitvaren kwam plots een vissersvaartuig, de SS O.343 de Prins Albert hinderen waardoor cdt Van Hulle volle kracht achteruit diende te bevelen om een aanvaring te vermijden. Gelukkig is verder alles naar wens verlopen. Bij vertrek te Dover om 16u00 en vijf minuten na de Prinses Astrid kon deze reeds na een half uur worden voorbij gestoken. Niettegenstaande een kopwind en woelige zee kon de reis in exact 4 uur worden gepresteerd. Om 20u00 aankomst te Oostende.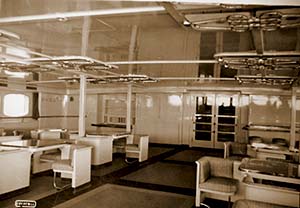 Op zaterdag 19 februari 1938 geraakte er een tros in de schroeven waardoor het schip pas om 18u00 Dover kon verlaten en pas om 02u30 zondag in Oostende is aangekomen. Er werd schade aan een schroefblad vastgesteld waardoor het schip naar het droogdok in Antwerpen diende te gaan voor herstelling.
Op maandag 14 maart 1938 kon de Prins Albert 18 schipbreukelingen van de Engelse SS Helena-Margareta ter hoogte van de Goodwin redden. Het schip was in de mist door een onbekend schip aangevaren dat na de botsing in de mist verdween.
WOII
Het is echter tijdens de oorlogsjaren dat de Prins Albert een stevige reputatie heeft opgebouwd. Wanneer de Belgische eenheden op 16-17 en 18 mei 1940 Oostende dienden te verlaten is de Prins Albert samen met de Prince Baudouin met vluchtelingen op 18 mei vertrokken naar Le Havre en naar Southampton.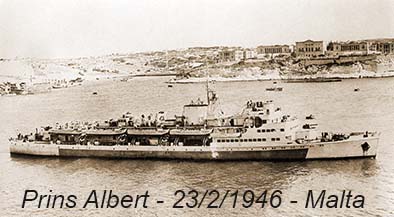 Op 28 mei 1940 is het schip door het Ministry of War and Transport overgenomen en begin oktober naar Harland & Wolf Shipyard om tot LSI te worden omgebouwd. In december werd het schip naar Penarth docks gestuurd voor de verdere ombouw als LSI en bewapening. Op 30 september werd het schip aan de Royal Navy overhandigd en hernoemd in HMS Prins Albert. Hier begon de loopbaan en deelname aan de vele operaties en landingen over heel de wereld waar het schip steeds door zijn wendbaarheid en snelheid de taken ongeschonden wist te volbrengen.
Het kreeg dan ook de naam "Lucky Albert" wanneer het in april 1946 terug aan België werd gegeven en vanaf mei te Hoboken terug werd omgebouwd tot conventionele ferry. Eind juni 1947 kon het schip weer terug in normale dienst worden gezet en nog een 19 jaren trouwe dienst kon leveren. Vanaf 1967 werd het schip tijdens de zomer ingezet om in augustus 1969 volledig uit dienst te worden gehaald.
Op 25 mei 1970 werd het schip verkocht als schroot aan de firma Van Heyghen te Gent.