De Reine Astrid is een vaartuig dat door de Rmt is ingezet om antwoord te geven aan de steeds toenemende vraag naar vrachtruimte. Het schip is gebouwd bij GmbH Rickmers werf Bremershaven en ging in dienst in november 1975 voor Stena Lijn als de Stena Nordica tussen Götenborg en Kiel.
In 1976 werd ze reeds gecharterd door verschillende maatschappijen en op verschillende routes ingezet. Zelfs in het seizoen 1977 op de lijn Zeebrugge - Felixtowe gevaren. Tussentijds de naam "Hellas" gekregen tijden een charter bij Soutos Hellas Ferry Services en terug Stena Nordica wanneer bij Stena Line.
In de winter 1980/81 vaarde ze nog voor British & Irish Steam Packet C°, Dublin line op Pembroke –Rosslare. Na een revisie werd ze in maart 1982 door de RMT voor twee jaar gecharterd maar het duurde wel even en had een juridische beslissing van een Londense rechtbank nodig voor het schip aan RMT werd gecharterd. Het schip was immers ook al aan een Canadese rederij gecharterd.
Op 7 april kwam het schip dan in Oostende en kon op april reeds worden ingezet.
Op 28 februari 1983 werd het schip dan aan de RMT verkocht en kreeg het de nieuwe naam "Reine Astrid" op 7 maart.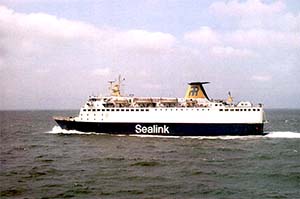 Wat later op 14 februari 1984 ging het schip voor aanpassingen naar Mercantile Engineering D.D. C°, Antwerpen voor de aanbouw van een bulpsteven, installatie van stabilisers en aanpassing van de accommodatie. Deze werken namen vijf weken in beslag. In maart 1984 kwam de Reine Astrid terug in dienst.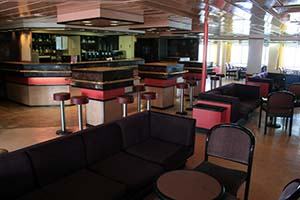 Eind 1985 werd het schip in de Townsend Thoresen kleuren geschilderd.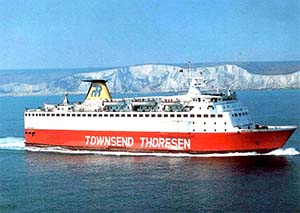 Op 26 mei 1986 strandde de Reine Astrid voor Oostende op een zandbank en diende door de sleepboot de "Zeetijger" te worden geholpen. Het schip kon de reis naar Dover verder zetten.

In 1987 werd er een elektronisch controlesysteem aan de boegdeuren geïnstalleerd zodat er op de brug kon nagegaan of de boegdeuren in gesloten toestand waren. Dit na het ongeval met de Herald of Free Enterprise in Zeebrugge. Voorheen rapporteerde de luitenant voor afvaart altijd aan de brug via walkie talkie of de boegdeur dicht was.

Op 7 januari 1988 deed de Reine Astrid haar eerste reis onder P&O kleuren.
In september 1990 liep de Reine Astrid voor Duinkerke vast op een zandbank maar kon twee uur later op eigen kracht vrij komen zonder schade. In dat jaar werd ook een cinema, disco bar en een cafetaria aan boord ingericht.
Als dj aan boord herinner ik mij een bijzonder moment. De installatie was achteraan het schip geplaatst en had nogal wat hinder door trillingen om echt van muziek te genieten. We dienden een tamelijk volume te gebruiken om de aandacht van deze trillingen weg te halen. Ik had de gewoonte tijdens de dagreis om na vertrek te Dover zo'n een mijltje buiten de pier keihard Vera Lynn te draaien met "The White Cliffs of Dover". Wetende dat we veel COSMOS reizigers mee hadden en er daaronder nogal wat Amerikanen zaten. Het zicht van de Cliffs achteraan op dat schip was schitterend en de mooie stem van Vera deed veel reizigers een onvergetelijk moment beleven. Ik was even afgeleid toen er plots een oudere Amerikaanse dame mij een dikke zoen kwam geven en zei dat ze dit moment en gebaar nooit meer zal vergeten. En voilà, mijn dag was goed.

In januari 1991 werd het schip in de RMT kleuren geschilderd. Enkele jaren later in 1994 komt daar het logo en Oostende-Dover bij.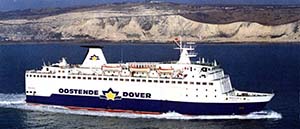 In januari 1995 komt de Reine Astrid na vertrek te Oostende terug omdat er water via de boegdeur binnen komt. In februari word ze zelfs door de Britse havenautoriteiten geweigerd wegens de onveilige toestand van de boegdeur. Dat werd later in april verholpen door een supplementaire waterdichte deur te installeren.

Begin juli 1995 doet er zich nog schade voor aan het mezzanine dek dat brak. Dit kon in Oostende worden hersteld.

Eind oktober 1996 en bij storm komt de Reine nog in aanvaring met een aanleg post in Ramsgate waarbij lichte schade word opgelopen. De schade word hersteld en het schip te koop gesteld.
In januari 1997 werd deze dan aan Onorato Transport Maritime Ltd, Funchal, Madeira verkocht en is op 3 februari afgevaren naar Livorno. En met een nieuwe naam "Moby Kiss".
In mei 1997 werd ze nog gecharterd door Compagnie Marocaine de Navigation en herdoopt tot "Al Mansour" om ingezet te worden tussen Aleciras en Tangiers. Het volgende jaar werd ze dan aan deze rederij verkocht.

Op 6 augustus 2001 had ze nog voor Gibraltar een aanvaring voor met een bulkcarrier de " Indalo " en diende naar Algesiras gesleept. Op 22 augustus kwam ze echter wel terug in dienst.
In juni 2015 kregen we een bericht dat de ex-Reine Astrid was verkocht voor 702 000 € als schroot en belandde op de stranden van Aliaga.